Rapporteurs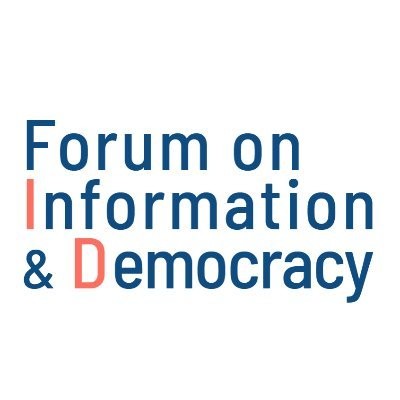 Forum on Information & Democracy
United States
Posted on Monday, August 7, 2023
International Observatory on Information and Democracy Rapporteurs for the Research Working Groups Job description
About the International Observatory on Information and Democracy (OID)
The OID is the evaluation framework of the Forum on Information and Democracy. Its mission is to aggregate and synthesize existing research and available data (meta-analysis) to provide policy-makers with a periodic global assessment of the information and communication space and its impact on democracy, in the form of biennial reports. The ultimate goal of the Observatory is to assess the means, standards and architectures of the digital information and communication space, to enhance its public understanding, and hold its stakeholders accountable. The mission at a glance For the launch of its first work cycle in September 2023, the Observatory is recruiting several rapporteurs for its research working groups. These will be paid part-time positions, starting in September 2023 and running for a period of 12 to 16 months, through freelance/consultant agreements. Each working group will focus on different themes, all laddering up to the objective of assessing the information ecosystem's impact on democracy. Each working group will produce a chapter of the final report to be published by the end of 2024. Rapporteurs' work will be supported by the permanent staff of the Observatory and overseen by the Observatory's Scientific Director and its Steering Committee.
About the rapporteur's role
The rapporteur of a working group is responsible for drafting one or more chapters of the Observatory's final report on a specific thematic priority, in the process of being defined. Responsibilities include: ● Aggregation and synthesis: compiling, classifying and analyzing contributions from experts and stakeholders; ● Drafting and editing: managing the drafting process for a given chapter of the report and coordinate with the other rapporteurs and the Scientific Director, ● Internal communications: be the main point of contact for the working group's participants, regularly communicate with the Observatory's permanent staff, coordinate with other rapporteurs, and report to the Scientific Director; ● Assist the working group chair in their mission. To coordinate and synthesize the production of the working groups, the Observatory is looking for profiles with the following assets: ● Academic or research experience in a think tank, university or relevant research organization; ● A strong interest in issues relating to information, democracy and the impact of digital technology on society; ● Writing and editorial experience; ● Strong organizational skills and proven experience in facilitating group work; ● Part-time availability; ● A status allowing freelance work and invoicing a French organization (remote wok possible). Desirable knowledge ● Experience of research or writing on themes related to the Observatory (democracy, social impact of digital technology, information, freedom of the press, etc.). ● Strong interest in regulatory issues in the digital environment as regards information and its impact on democracy; ● Proven expertise in a specific field dedicated to a priority theme for the Observatory or a chapter of the report (desirable); ● Excellent writing and communication skills in English. Knowledge of other languages, including French, is an advantage; Relevant experience ● Experience as rapporteur for a working group; ● Experience as an editor; ● Research experience with an editorial coordination role; ● Experience of managing projects and facilitating group work in an international environment. Conditions ● Projected contract timeline: September 2023 to December 2024 (to be confirmed). ● Contract type: part-time freelance. ● Wages: negotiable depending on the profile.
Recruitment process
All applications are welcome. Applications will be considered on a rolling basis until the position is filled. If you submit an application, please note that we will only contact you if your application is shortlisted for an interview. This vacancy will be removed from this page once all positions have been filled. To apply, please send an e-mail to observatory@informationdemocracy.org before 20.08.23.
Forum on Information & Democracy is an equal opportunity employer.