Director of Communications & Marketing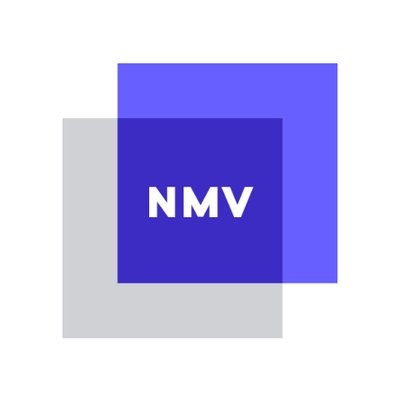 New Media Ventures Innovation Fund
Job Functions:
Marketing & Communications
Compensation:
107,000 – 145,000 USD per year
New Media Ventures (NMV) is a mission-driven venture fund and investor network focused on innovation to advance progressive change. Our mission is to find, fund and support mission-driven technology and media startups that are building movements, creating new narratives and accelerating civic engagement. Over the past 12 years, we have supported over 110 progressive startups, many of which are now widely-recognized pillars of the social change community including Hearken, Blavity, Swing Left, Mijente, and PushBlack.
Organizational Culture
NMV is a pro-Black, women-led mix of Millennials and Gen Z's. We believe in a liberated workforce. We strive to cultivate a low-ego, high-performance culture and a flexible work environment that centers joy and impact. We are looking for a self-motivated colleague who is diligent about their work, takes risks, thinks outside of the box, and is bold in their love for culture and community – basically, someone who wants to do dope shit with dope people.
The Opportunity
New Media Ventures leverages communications to develop and strengthen authentic connections with diverse audiences through the lens of innovation and democracy. As such, we are seeking a highly motivated and team-oriented Director of Communications & Marketing who can design and implement creative and cohesive communications and marketing strategies. This position is responsible for raising the profile of the organization, our work, our portfolio companies, and our staff in order to attract high-quality investments, surface innovative startups working to advance our democracy, grow our fundraising and partnerships, and influence the fields of philanthropy and impact investing, particularly in progressive and BIPOC communities.
The Director of Communications & Marketing plays an integral role in articulating the work of New Media Ventures across a diverse array of external stakeholders - funders, founders, peer funding networks, venture capitalists, movement leaders, etc - that operate across an even more diverse array of sectors. To be successful, the director will need to understand the intersections in which we operate and proactively propose strategies to leverage our strengths, spot gaps in the field that NMV is well positioned to fill, and bring new ideas to the organization.
The ideal candidate will have a track record of driving successful communications efforts in an entrepreneurial environment and is equally skilled at strategic positioning and tactical content creation. Reporting to and in partnership with the President, this person will serve a key leadership role and will be an active participant in strategic decision-making.
Primary Responsibilities
Develop, implement, and evaluate a comprehensive and actionable communications and marketing strategy to support NMV's growth and drastically increase its external presence
Curate and optimize NMV's "day-to-day" communications (e.g. social media, email blasts, website) in order to ensure a consistent voice and brand in all external messaging and collateral
Collaborate with other departments to integrate work planning, identify communications needs, and ensure the organization is aligned with routinized messaging briefings
Drive messaging strategy and manage content creation for all organizational communication channels including, but not limited to, press releases, statements, op-eds, blogs, and talkers
Engage, enlist, and train staff and board to serve as ambassadors of the organization
Direct the creation of all print and digital collateral (e.g. annual reports, one pagers, presentation decks, infographics, etc), and ensure that content is accurate, up-to-date, and accessible
Drive thought leadership strategy and activities including seeking out and securing PR engagements (e.g. speaking and writing opportunities, conferences, panels, interviews)
In collaboration with Director of Development & Partnerships, proactively identify and evaluate partnership opportunities and cultivation tactics as well as support on event strategy
Look for any and all ways to amplify the impact of the organization and its portfolio companies
Qualifications and Experience
While no one candidate will embody all the qualifications listed below, the ideal candidate will possess many of the following professional and personal abilities, attributes, and experiences:
Deep mission alignment with NMV and strong familiarity with progressive politics and/or social justice movements
Five or more years of demonstrated success in a professional communications setting or equivalent experience, such as a newsroom, think-tank, advocacy organization, public-relations or marketing firm, political campaign, or a corporate or nonprofit communications department
A visionary strategic leader able to articulate and communicate a clear and compelling vision for the communications, brand building, and marketing work of NMV that inspires, mobilizes, and galvanizes internal and external audiences
Significant experience in media relations or public relations, preferably in an advocacy or mission-driven organization
Experience with mass marketing/communications, digital fundraising, audience segmentation, social media, press releases, prepared remarks drafting, and other forms of marketing writing
An exceptional relationship builder, inspiring trust across a diverse stakeholder ecosystem
The ability to be a public spokesperson - a strong listener, public communicator, and storyteller who can articulate and amplify the values, lived experiences, and lessons that demonstrate the potential and impact of the work we lead
Excellent writing, editing, and analytical skills. This is essential to the skillset of this role
Commitment to racial equity and dismantling white supremacy with an acute understanding of how power is manifested through storytelling and systems
Experience with an array of communications tools, including but not limited to, Mailchimp, Canva, Campaign Monitor, Microsoft Office, Google Suite, and various social media platforms
Highly organized and detail oriented, capable of balancing and prioritizing concurrent projects and deadlines
Demonstrated skill with graphic or web design
An optimistic outlook and the humor, integrity, kindness, and patience necessary to work within a transformative, liberated environment
Details:
Salary range: $107- $145k. The higher end of this range assumes additional experience and greater alignment with qualifications and experiences listed above.
Fully remote. We prefer for this person to be based in either Washington, DC; Los Angeles; or Oakland to be in proximity to the team, but will consider other locales for exceptional talent.
Full benefits, including employer-covered health/vision/dental, life and disability insurance, 401k match up to 5%, and more than 30 days of paid time off annually.
Ready to apply? Please fill out this form answering the questions below and upload a 1 page PDF resume:
What excites you most about the role? (150 words max)
Tell us about a marketing or communications model you are inspired by and would like to imitate or build upon if given the opportunity. (150 words max)
Name the most critical factor to your success in your career to date that may also lend to your ability to be successful in this role. (150 words max)
The application deadline for this role is August 1. We will be reviewing applications on a rolling basis.